My Place: a public-space autobiography
Lectures, Discussions, Workshops
07.10.2013 - 11.10.2013
 | Beginnzeit: jeweils 9 Uhr | Festivalzentrale | Hundsturm | 5., Margaretenstraße 166 | U4 Margaretengürtel | Workshop
The project serves as an introduction into participatory action research. The participants will investigate how different cultural groups negotiate their identities and sense of place in the contemporary city, and explore potentials of public space and everyday life for creating exchange points between various people and groups. My Place is a university project open to everybody interested in the topic.
---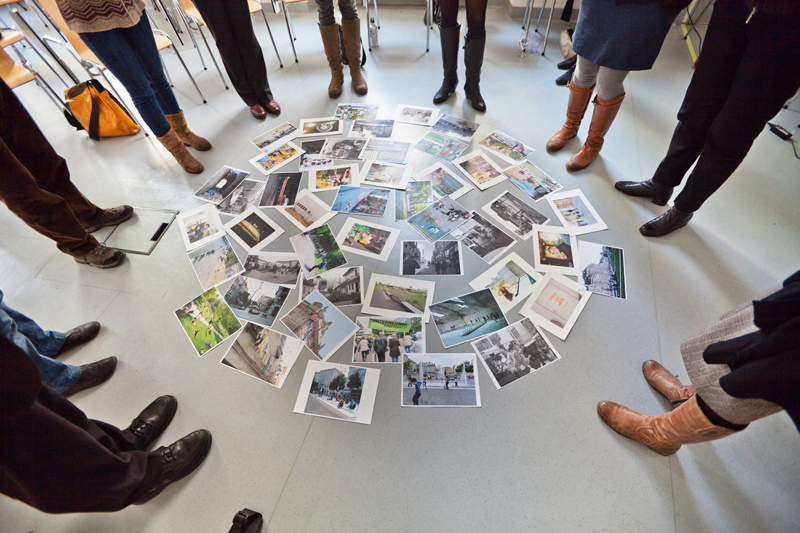 This weeklong format titled My Place: a public-space autobiography consists of theoretical inputs and practical work carried out in groups. It is a part of the undergraduate elective course Introduction to urban studies: My place-Their place-Our place offered in the curriculum of the Vienna University of Technology, which aspires to promote the relevance of everyday life for planning and design interventions in public space.
Participants in this project will explore everyday life practices and rhythms between the concrete personal experience of the self and interpersonal relations. In the span of five days they will combine the investigation of social realities with the mental exploration of practices related to social imaginaries of comfort zones in public space of utopian kind.
The project adopts principles of participatory action research in public space, thus enabling participants to learn by doing. With the focus on Vienna's 5th district (Margareten) as a landscape of diverse cultural groups, participants will not only explore the existing social practices and different expressions of identities, but also articulate other forms of encounters and exchange in everyday life of an utopian urban society. By depicting how everyday life in their own comfort zone in public space should ideally unfold, they will develop and problematize utopian visions based on explored social practices and expressed through micro-urbanism interventions. The project will be concluded with final presentations and a discussion on personal discoveries.
The team organizing and supporting this SKuOR-workshop consists of the City of Vienna visiting professor Jeffrey Hou (landscape architecture), assistant professor Sabine Knierbein (urban studies and landscape architecture), Lale Rodgarkia-Dara (media art and journalism) and Tihomir Viderman (architecture and urban planning).
My space is an open type university project, a cooperation between SKuOR and urbanize! Festival 2013. Everybody interested in the topic is invited to participate. Students of other faculties also have the possibility to visit two further teaching blocks and to receive ECTS-Points at the end of the term. Working language: English.
Program
Monday 07.10.2013
09.00 - 10.30 Lecture: Introduction to public space - Between everyday life and planning utopia (Sabine Knierbein)
11.00 - 12.30 Workshop: Introduction to the project
Tuesday 08.10.2013
09.00 - 10.30 Lecture: Cityscapes and city cultures (Jeffrey Hou)
11.00 - 12.30 Workshop: Discussing the area of intervention
13.30 - 16.30 Workshop: Methodology pertaining to interventions in public space
Wednesday 09.10.2013
Public spaces in Margareten: Developing an intervention
Thursday 10.10.2013
09.00 - 10.30 Students' presentation and discussion: Between everyday life and planning utopia
11.00 - 12.30 Students' presentation and discussion: Cityscapes and city cultures
13.30 - 15.00 Actor's walk
Friday 11.10.2013
09.00 - 12.30 Final presentations and reflection
13.30 - 15.00 Final presentations and reflection
Please register! Registration and further information
Interdisciplinary Centre for Urban Culture and Public Space was established in 2008 by the City of Vienna and Vienna University of Technology with the mission to develop a novel perspective on public spaces and cultural practices in Vienna, advocating an understanding of public space as relational space, which encompasses both physical arrangements and social space. Its research and academic-level teaching are directed at exploring public spaces and different cultural practices at the interdisciplinary interface between planning and design disciplines and social sciences. SKuOR's mission is to investigate how urban planning can strengthen public spaces as social spaces, and how culture in cities can contribute to social exchange and social confrontation.
A project of Interdisciplinary Centre for Urban Culture and Public Space of Vienna University of Technology (SKuOR) in cooperation with urbanize! festival 2013.
---
KATEGORIEN
Workshop
TAGS
Everyday Urbanism, Research, Public Space, Urban Practice